When:
2018-11-03T00:00:00-07:00
2018-11-04T00:00:00-07:00
Where:
Marymoor Park (Field 7)
16325 NE Marymoor Way
Redmond
WA 98052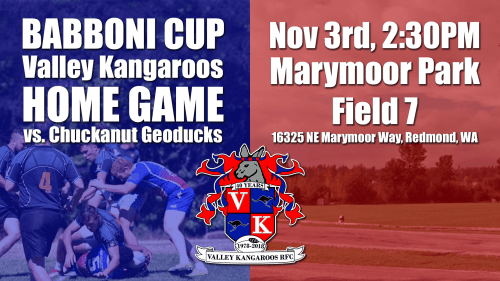 We will be playing Chuckanut for the Babboni Cup on Nov 3rd! The match will be at 2:30 PM at Marymoor Park (Field 7) in Redmond. 
This is part of a full day of matches, beginning with Panthers youth rugby in the morning, a Division 3 match between Eastside Axemen and Budd Bay Buffaloes at 1:00 PM, and Valley vs Chuckanut to close out the day. There will also be womens matches on the adjacent field – Seattle Saracens vs Burnaby Lake at 12PM and UW vs EWU at 1:45 PM.
Come on out to support your Kangaroos for the last match of the Fall half, and enjoy a full day of great Pacific Northwest rugby!