When:
2018-03-10T00:00:00-08:00
2018-03-11T00:00:00-08:00
Where:
Portland Avenue Park
3513 Portland Ave E
Tacoma, WA 98404
USA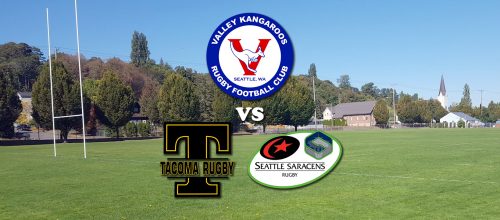 Valley travels to Portland Avenue Park in Tacoma on March 10th! Our 1st side kicks off for their league match vs. Tacoma Nomads at 2PM, followed our 2nd side taking on a mix of Tacoma Nomads and Seattle Saracens development players at 3:30PM.
Show up early (10AM) to support our Liberty boys as they take on the Tacoma Tsunami! And don't forget the Liberty Poker Night after the matches.
FULL SCHEDULE:
Upper Field:
10:00 AM – Portland Pigs vs Tacoma Sirens (Women)
12:00 PM – Liberty Patriots vs Tacoma Tsunami (Varsity Boys)
2:00 PM – Valley Kangaroos A vs Tacoma Nomads (Men)
3:30 PM – Valley Kangaroos B vs Tacoma/Saracens (Men)
Lower Field:
10:00 AM – Liberty Patriots vs Tacoma Tsunami (U14 Boys)
2:00 PM – Liberty Patriots vs Tacoma Tsunami (JV Boys)