When:
2020-08-01T00:00:00-07:00
2020-08-02T00:00:00-07:00
Where:
Pat Ryan Field
1809 S 140th St
Seattle, WA 98168
USA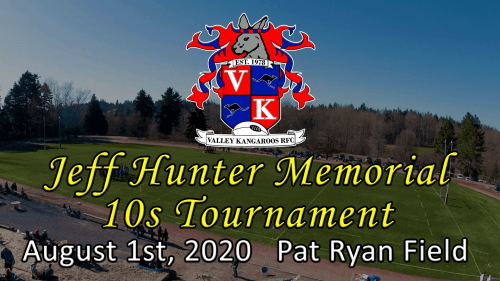 Join the Valley Kangaroos for the annual Jeff Hunter Memorial 10s at our home pitch Pat Ryan Field on Saturday, August 1st 2020!
The tournament is held in honor of the late great Jeff Hunter, Valley club founder and local rugby legend, and features a full day of 10-a-side rugby matches plus great food, all-you-can-drink beer, and lots of fun and games besides.
Registration is open, so sign your team up today!
Guaranteed minimum of 3 great games!
BBQ tent with food served all day!
$10 bottomless beer garden!
Champions receive $500 cash prize and a trophy!
Dogs welcome! (keep on leash, pick up poop)
Enjoyed the beer garden too much?
Camp out with Valley at Pat Ryan Field!

Entry is just $300 per Men's team.
Register and pay here: